Does on still need to introduce Superhuman? It is this quite expensive and super fast email client that many love and many hate.
It popularised the concept of Inbox Zero and was founded by the serial entrepreneur Rahul Vohra who's article on Product Market Fit has inspired a generation of YC-funded entrepreneurs.
Superhuman has become so popular and widely used, that a tiny but existing ecosystem of extensions, integrations and add-ons have developed to extend Superhuman's feature set and add even more value to their customer base.
Today we're looking at three of the most popular extensions that you could install as well. Keep in mind that following Superhuman's lead, those are all paid extensions that also exist as self-standing products but offer a complete integration with Superhuman.
After the release of ChatGPT, many Chrome Extensions appeared to bring AI to email. They usually work by adding some new AI button to the Gmail interface and after selecting a prompt such as "reply in a casual tone" or "decline politely", ChatGPT will draft an answer within ten seconds.
Auto Gmail is the second generation of those tools and goes beyond the Chrome Extension to connect with the Gmail API directly. In non-technical terms, this means that like an AI agent, Auto Gmail can work in the background and draft email answers even when you're not using your computer.
This also means it does not depend on the Gmail interface anymore and works with Gmail's mobile app and of course, Superhuman (both the desktop app and mobile app).
How does Auto Gmail work with Superhuman?
To setup this email AI agent, you simply need to provide it with relevant information about your business and yourself. It can even gather that information automatically from your sent emails. It will then use that information to best answer all your inbound emails.
Once the setup is complete (~1 minute on average), you can continue to use Superhuman as you usually do with one subtle difference: every unopened email will have a pre-written draft that the AI agent will have written for you, ready to be sent.
You only have to review the draft and hit send (or edit it, if parts are not relevant).
Saving you an additional hour per day, depending on the amount of emails you get per day.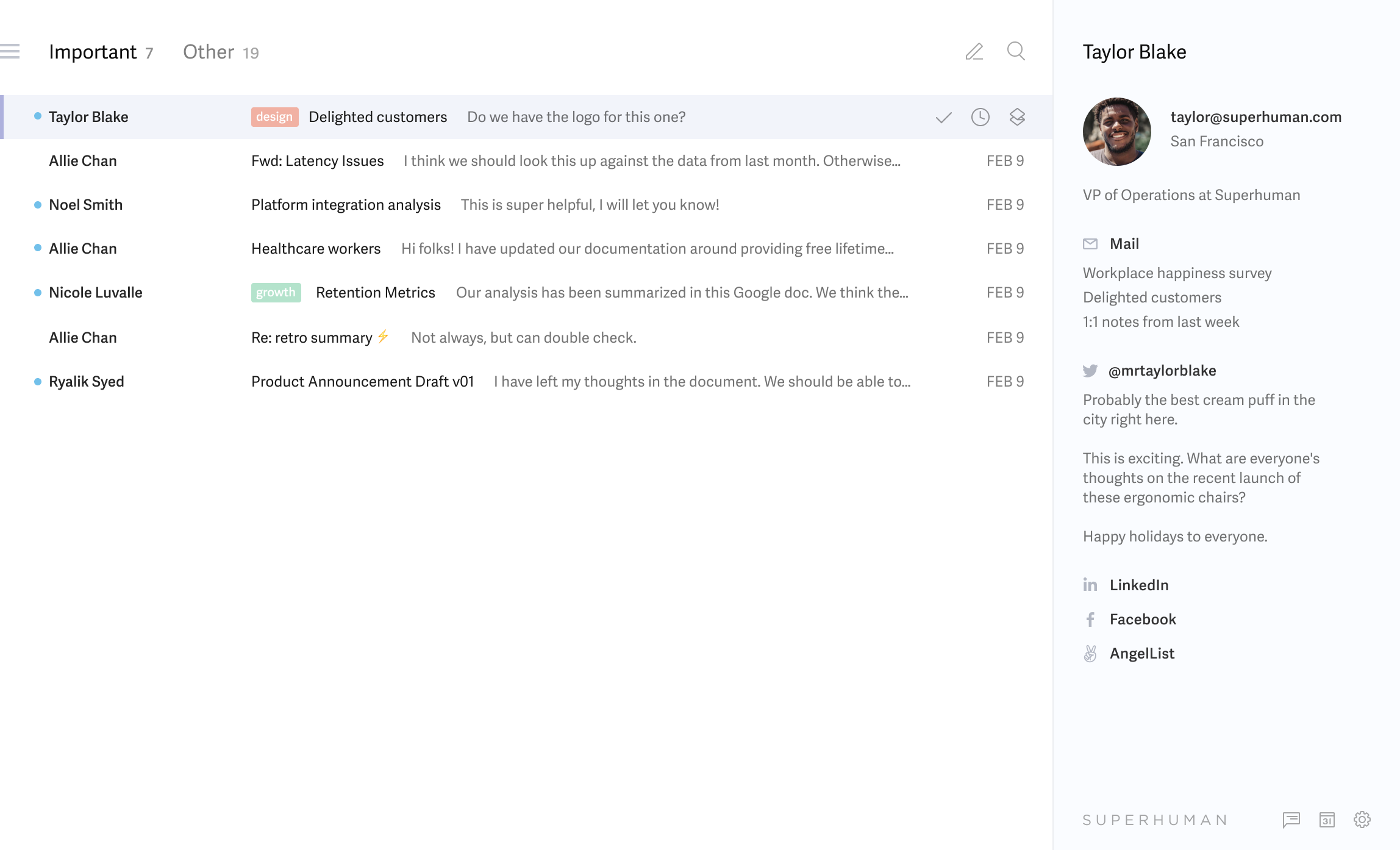 Dex - Personal CRM
Dex is a personal CRM built for consultants, MBA graduates and investors, many of whom are Superhuman customers as well. It therefore made sense to integrate their product with the famed email client and offer their customers a tight knit connection between their contact management app and Superhuman.
How does Dex work with Superhuman?
Dex's Chrome extension allows their customers to open Dex's contact details view within Superhuman, allowing you to see all the notes and additional infos about contacts from Dex, directly in the email client.
From that view, you can also directly add people you email to your Dex Rolodex.
Xoba - Universal Search and Bookmarking Tool
Xoba is a universal search and bookmarking tool that allows you to find and save relevant information across a variety of platforms and applications, including your Superhuman emails.
If you're looking to enhance your productivity and efficiency in managing information from various platforms, Xoba's integration with Superhuman could be the game changer you're looking for.
How does Xoba work with Superhuman?
Installing Xoba's chrome extension connects your Superhuman client to Xoba's universal search function. This enables you to quickly find any email, document, calendar event, or piece of information that you need, across all your different platforms - including Superhuman - without having to navigate away from your current tab.
For example, if you're writing an email in Superhuman and you need to reference a document stored in Google Drive or a note in Notion, you can easily search for that document or note using Xoba's universal search, without leaving Superhuman.
Furthermore, you can create bookmarks in Xoba for any useful information you come across in your Superhuman emails, be it an important attachment, a useful link, or a critical piece of data. These bookmarks can be grouped into collections for easy referencing and can be shared with others, enhancing collaboration.
In Conclusion
Superhuman's powerful email client has undeniably changed the way some of us manage our emails. The introduction of extensions like Auto Gmail, Dex, and Xoba not only extends the power of Superhuman but adds new dimensions to its functionality, making your email management experience even more efficient and productive.
Whether you need AI-generated email drafts, a personal CRM system integrated directly into your inbox, or a universal search and bookmarking tool, there is a Superhuman extension out there ready to supercharge your email productivity. The only question is, which one will you choose to enhance your Superhuman experience?