For thousands of years of human history, geography limited our ability to connect and collaborate. If two people weren't in the same location, accomplishing anything together was an impossibility. And the idea of remote collaboration was nothing more than a dream.
But the past two decades have changed all that. Today, over 60% of workers say that they do at least part of their job remotely. Broadband internet, HD webcams, mobile devices, and a host of versatile apps make it possible to work alongside people living anywhere on the globe. 
Today, remote collaboration isn't just possible. It's quickly becoming the norm. And it's not just about accomplishing tasks. Various apps like CoffeePals are allowing teams to develop greater team cohesion among their staff by pairing up members via video chat and giving them something to discuss over virtual coffee.
If you're new to the concept, consider this your guide for remote collaboration. We'll cover what remote entails, why it's so valuable, the core components that fit together to make it work, and the best remote collaboration tools on the market today.
What is Remote Collaboration?
Simply put, remote collaboration is how people work together to accomplish a goal without being in the same geographic location. It can be as simple as coworkers in the same town working from home rather than going to the office. Or it can involve putting together a team of international experts, each accomplishing their unique tasks from a different part of the world.
Taking advantage of a variety of hardware and software, remote collaboration eliminates limitations imposed by distance. However, it's not just about allowing geographically distant team members to work together. It also makes it possible for people to work from home, saving time and money, while boosting productivity and job satisfaction.
But these reasons only touch the surface as to why remote collaboration is so valuable. Many of the processes and applications that make it possible to work across great distances can also empower other kinds of teams in sometimes unexpected ways.
The Essentials of Remote Collaboration
While remote collaboration can be as simple as sending out a CC e-mail out to all of your team members, that won't get you many of the benefits possible with modern remote collaboration tools. If you're going to make the most of remote collaboration, you'll need to look at how your team functions in a more holistic way.
These are some of the most essential pieces you'll want in place if your remote collaboration efforts are to bear fruit.
Team-Wide Participation
One of the biggest challenges remote teams face is keeping everyone involved and engaged. While working remotely is convenient for team members, it also makes it easy to disconnect from others. As the old saying goes - out of sight, out of mind. Unfortunately, if your team isn't participating in collaborations, you are missing out on productivity. Dr. Patrick Laughlin, a researcher with the University of Illinois at Urbana-Champaign, has found that "groups of size three, four, and five outperformed the best individuals."
This is why it's absolutely vital for you to make every effort to keep each of your team's members participating fully. You can accomplish this by putting things in place to build relationships between members, even if those efforts take place fully online. For example, CoffeePals allows you to regularly connect people in your organization for team- and relationship-building chats over Microsoft Teams.
By incorporating these kinds of activities into the life of your organization, you'll begin developing a company culture where connection and collaboration are valued. And that's the first step in effective remote collaboration efforts.
Consistency
Few things in life are as effective as consistency. That's especially true of building teams that collaborate well together - especially if they work remotely. One of the simplest ways to develop consistency is to plan meetings and other events at a regular time each day or week. In addition, you should require your team members to participate in a minimum number of online meetings or collaborative activities.
One caveat is worth noting here: Quality is more important than quantity. While you want people connecting regularly, if your team members feel as though they're simply meeting a requirement, your efforts could backfire. So be sure to make each meeting and time of collaboration valuable and focused on meeting a specific goal.
Clear Guidelines
If your team doesn't have clear guidelines when it comes to working together, you'll end up with more chaos and confusion than collaboration. So, be sure to clarify when and how team members should communicate with one another. This is especially important if you have an international team located in different time zones. 
You may want to also lay out the kinds of communications that are best for different formats. For example, video is better for building relationships, while text may be more effective for submitting feedback since people may feel more comfortable speaking their mind while writing.
By communicating expectations and guidelines, you'll reduce ambiguity and uncertainty about how things should work between the team. And that will lead to a better, more cohesive group.
Varied Forms of Communication
We've already touched on this idea briefly above, but it's worth reiterating as its own point. If you're going to benefit from remote collaboration, you should strive to use a variety of forms of communication, such as…
Video chat when possible, especially as you work to build rapport between your team.
Phone and audio messages when video isn't possible. Apps like Vocal make it easy to share voice notes per email for example.
Text messaging and messaging apps for quick communications that don't require much nuance.
Each of these forms of communication offers its own benefits and drawbacks. In addition, some people prefer and are more comfortable with certain forms than others. Keep these things in mind as you develop a holistic strategy for remote collaboration.
A Focus on Teamwork
Ultimately, your goal with remote collaboration is a team that works together, accomplishing a goal that would be impossible for any one person alone. But simply putting everyone in the same project management app isn't enough. You need to create an environment where trust is built, ideas are shared openly, and each member on the team feels valued.
You can accomplish this by incorporating team-building activities into your schedule, planning virtual lunches where your team can be exposed to new ideas together, and giving your team members the opportunity to connect with one another in informal ways. This is one of the incredible benefits of CoffeePals, since it allows you to automatically pair up employees and will even give them a prompt to spark conversation.
The Importance of Tools for Remote Collaboration
Communication is key for collaboration. It allows teams to coordinate all of their different parts, including tasks, schedules, deadlines, and more. That's why advances in communication technology have driven the remote work revolution. 
Unfortunately, those tools haven't always worked the way their developers (or users) have intended. That's one of the reasons that a recent report showed 20% of remote workers complaining about communication problems. And it's been shown time after time that text-based messaging systems like e-mail present their own problems.
Effective remote collaboration tools streamline the communication process, ensuring all hands are on deck and apprised of the project's status 24/7. They give team members the ability to quickly and easily know what part they're supposed to be playing. And they make it possible for each member to get a big picture view of how things are progressing.
This is why tools for remote collaboration aren't just a great idea for companies exploring remote work possibilities. They're a great option for any business that wants to cultivate more effective teamwork.
4 Best Tools for Remote Collaboration
If you're going to get the most out of your remote workers, you'll need the very best collaboration tools for remote teams. We've put together a list that will get you started in your quest, so you don't have to spend weeks trying out dozens of different applications.
Start with these tried-and-true, well-reviewed remote collaboration tools and you can't go wrong.
1. CoffeePals - Best App for Building Team Cohesion
CoffeePals is a Microsoft Teams-based app that's designed to bring your team members together and help them connect in meaningful ways. You can set it to automatically pair up members of your team so they can have an online chat over coffee, discussing a variety of topics. 
In addition, you can use CoffeePals to conduct virtual lunches, bringing your entire team together for online, video chat-based experiences. You can even conduct team-building exercises using CoffeePals's robust features.
Whether you simply want to build team cohesion or want to develop a personalized onboarding experience that connects veterans with newer team members, CoffeePals can help. It's one of the best tools for developing strong, collaborative relationships among your team.
And you can get started with it without paying one cent.
2. Microsoft Teams - Best App for Communicating About Projects
Over the past few years, Microsoft Teams has positioned itself as one of the business world's leading digital workplace hubs. It's easy to use and provides a variety of valuable features, including the ability to quickly share files, collaborate in real-time, conduct meetings, chat privately with others, and more. 
Microsoft Teams is an affordable solution that puts valuable project and team management tools into the hands of large and small businesses alike. And when you choose Microsoft Teams, you aren't just getting a great communication platform. You're also getting access to hundreds of apps that seamlessly integrate into it, adding new features and capabilities.
3. Trello - Best App for Managing Projects
Trello is a powerful collaboration tool that's designed to empower teams to take projects from the planning stages through to execution - all using a simple user interface that anyone can learn in minutes.
Users are able to create boards, lists, and cards, customizing and organizing each in a variety of ways. Team members can attach files, add comments, create due dates, and more. Everyone can see the progress every step of the way. Since Trello syncs everything to the cloud and is available in mobile and desktop formats, team members will never have to wonder about a project's current status. And since Trello can be integrated into Microsoft Teams, you can get the benefits of both platforms without having to switch between apps.
You can also use power-ups like Blue Cat Reports to boost your productivity by adding reporting capabilities to your Trello kanban boards and adding forms. As long as you need fewer than ten team boards, you can get Trello at no cost. But even if you need to upgrade, you can do so at an incredibly affordable rate.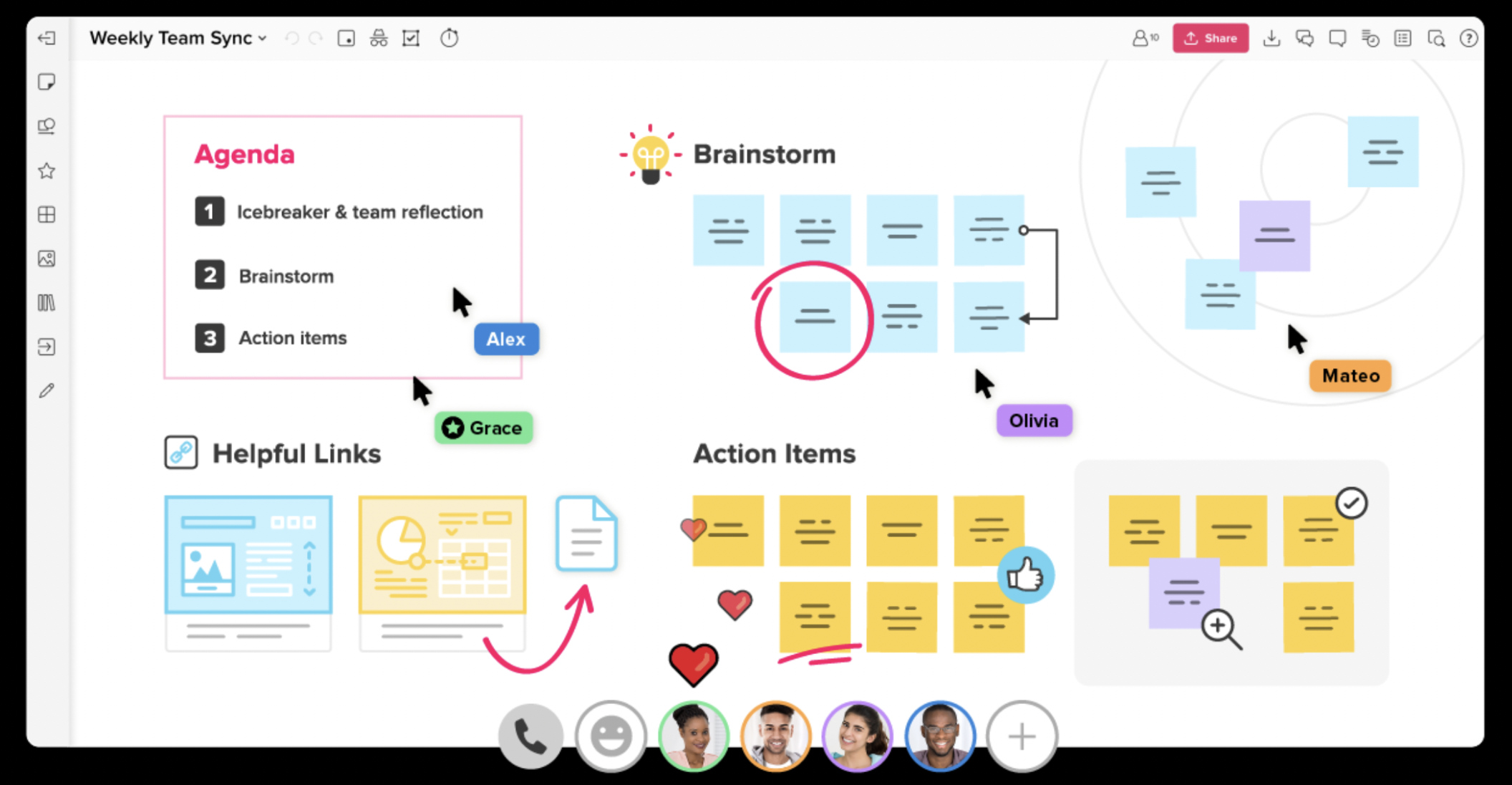 4. MURAL - Best App for Visual Collaboration
If you've got right-brained team members, you should consider adding MURAL to your remote collaboration tool belt. Integrating into Microsoft Teams, MURAL allows your team members to collaborate visually, using sticky notes, diagrams, GIFs, and more. It's a great option for teams that like to get creative. And like the other apps mentioned in this list, it can be used within the Microsoft Teams ecosystem, keeping all your remote collaboration tools in a single location.
Conclusion
Remote work isn't just a good idea any more. It's an inevitability. And that means that the businesses who prioritize it will reap the rewards. But it's important to recognize that prioritizing remote collaboration isn't just a matter of sharing everyone's e-mail addresses. It involves implementing the right tools in the right ways to build a collaborative culture, cultivate team cohesion, and empower team members to accomplish tasks together.
So much of remote collaboration begins with connecting team members and helping them build genuine relationships with one another. And that is where CoffeePals excels. Our team is dedicated to helping you strengthen your team. 
And since trying CoffeePals out doesn't cost a thing, you can start building better teams today. Get started and discover how we can help you accomplish more.