As 2022 is nearing its end, it is time to reflect on the personal CRM scene, and more specifically, on which tools have improved (or not) this year.
Comparison criteria & general angle
This year's personal CRM review will be focused on the most premium, paid plans of the competing apps. The reason for this is simple. All personal CRMs have the same business model: charging customers.
If a personal CRM is offering its service and product for free, there is either something shady going on. They'll either be selling customer data or they are funded by venture capital and are seeking growth at all costs in order to raise more money down the line.
None of those are good things and if you're in the market for a personal CRM, you should avoid tools that are free because they will either sell your data, or go out of business soon.
Additionally, the main criteria I will use to compare the different relationship managers below is how well they solve the key problem that contact management is all about: who am I losing touch with?
How good are the different apps at helping their customers to find out which contacts they should reconnect with.
1. Nat.app: Reconnect & Follow-up.
Nat is the indie hacker personal CRM by excellence. Developed in Switzerland by two people and without having ever raised any money, it aims at being a simple yet powerful tool for Gmail users.
Feature analysis
Here is a breakdown of Nat's most important features, including the brand new Magic Follow-up feature.
Reconnect with important contacts
Reconnecting with contacts is Nat's main feature. Contacts are simply filtered in three tabs: Not in touch, Losing touch and In touch.
Users can then easily send out an email, snooze the contact or log an interaction that happened outside of what the system tracks.
Adding contacts
In the past, Nat would automatically populate the contact list. Since 2022 this has changed though and now users have to manually add contacts from a list generated by Nat's AI, based on email and calendar data.
This makes it easier for users to keep track of their contact list, and gives them more power over the system.
Magic Follow-up
We send out so many emails on a daily basis that we expect to be responded to. Unfortunately, our recipient might miss our email or simply be busy, and it is very tricky to know if you should follow-up on emails that you' might already have forgotten about.
Nat makes this 10x easier. The app displays all the emails you've sent to important contacts that haven't been answered. You can then set a template and follow-up in a single click. No need to open Gmail or think through a whole email, Nat just uses a template you set.
Pricing
- $39/month: Nat's most comprehensive plan with all the features enabled is the most expensive personal CRM on the market.
Business analysis
Nat is transparently sharing revenue via Indie Hackers. Currently, the company reports a meagre $800/month in revenue.
Nat's team reports working part time only on the personal CRM and that the revenue is more than enough to cover all server costs and to even pay themselves a little something.
While this might not be a business to invest in as I explained in other articles, Nat has been around for four years and can be expected to continue being around for years to come.
High level analysis & review
Nat focuses on a few key features to help you reconnect and follow-up
Nat, as a bootstrapped, indie company, is more expensive than the competition
Nat can be seen as a personal CRM without the fluff, focused on Gmail power-users. There are no "nice to have" features, only critical features that will make or destroy your network. To this day, it is still the best way to find out who you're losing touch with without having to spend days setting up your relationship management app.
Sign up for a 7-day free trial today.
2. Dex: Personal CRM Powerhouse
Launched in 2019 during Y Combinator's winter batch, Dex is ending 2022 with a crowdfunding which gave us a lot of insights into the company's success and revenue.
Feature analysis
In the past twelve months, Dex launched an incredible amount of features, including a LinkedIn integration to import your connections, a Superhuman integration to manage your contacts directly from within Superhuman and they improved their mobile app massively.
As can be seen on the screenshot above, the main interface is clean and Dex is turning more and more into a central launchpad for all people related tasks
Contact labelling with Dex
Dex relies on their users labelling they're whole network and for each contact, setting a cadence to reach back out. Given how central this is, they've created multiple interfaces for this, including a Trello-like Kanban board.
Network map view of your contacts
Dex also launched a new feature which lets you see your network as a set of connected nodes.
Pricing
- 20/month. Reasonable pricing in my opinion.
Business analysis
When a company wants to raise money, they have to be very transparent about their numbers and disclose their metrics to investors. In the case of crowdfundings, where the money comes from the general public, this information is shared publicly.
This gives us a lot of insights into the company. First insight is that a crowdfunding is generally a bad sign. If a company can raise from private investors, they'll usually do so.
While some companies can argue that raising money from customers is a strategic move to increase retention (since customers who invested their money in a company, will likely stick to that company), in the case of Dex, I believe that traditional VC-money simply is not interested in the personal CRM space. This is something I firmly believe as well. I do not thing that there is a billion dollar startup hiding among the top personal CRMs I'm presenting today.
Some numbers
Dex is currently generating around $20'000 in monthly recurring revenue
Dex has about 1'500 paying customers
Dex is a team of four people
To me, this sounds like a sustainable business for a small remote team.
My only worry is that they're building far too many features, integrations and apps to maintain for such a small team, which will force them to hire more and their software might suffer in quality from this.
High level analysis & review
Dex is a feature powerful, but I'd argue, most features aren't really relevant to answer the key question a personal CRM should answer: who should I reconnect with.
Dex relies on the manual labelling of hundreds (most likely thousands) of people in order to be able to know who you're losing touch with.
Dex will likely build an auto-labelling feature in the coming year, making it much easier to use as a system.
Therefore, Dex is a very powerful option for someone who is willing to spend a few days properly setting up their personal CRM. They will be able to leverage a lot of features and if they're willing to make Dex their central contact management solution, they should get value for their buck.
3. Clay: Personal CRM for VIPs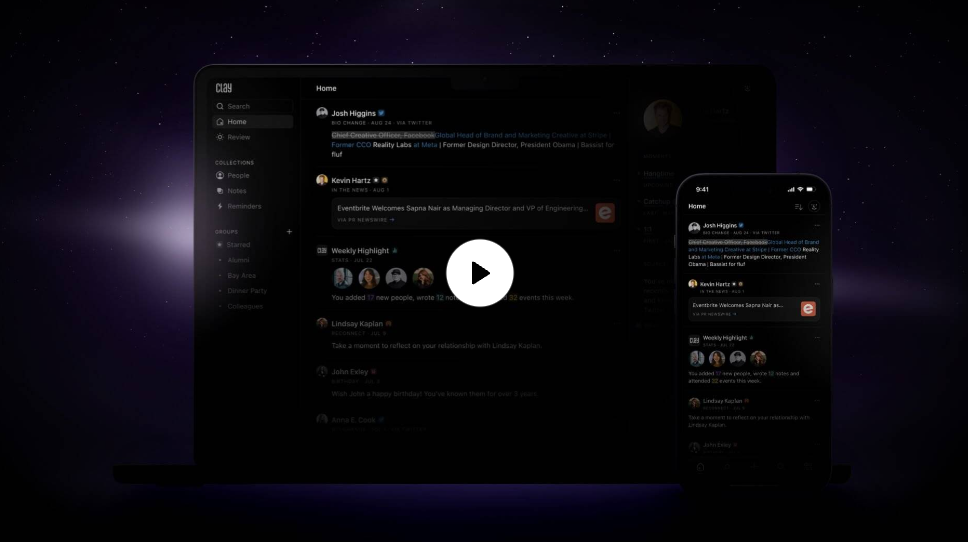 Since Clay launched publicly a few years ago, this sexy contact management app has always been the cool kid on the block. Late this year, it was voted first product of the month on Product Hunt and it continues to be the product with the most lavish recommendations and reviews on Twitter.
Feature analysis
Clay has continued to ship new features in 2022, including a Contacts integration for IOS and a Facebook integration to sync birthdays and a lovely IOS 16 Widget that displays contacts on your iPhone's home screen.
Automatic reconnection cadence
This is the feature I'm personally most excited about since it is a feature that I believe every personal CRM should have.
Instead of setting harsh, un-precise reconnection cadences (such as every week, month or year), you can now ask Clay to remind you to reconnect when the app believes it is time, based on your past interaction data with any given contact.
The only downside is that you still have to set a cadence manually for each contact!
Home page feed
A big concern I have with Clay, is that if you're not some VIP who knows celebrities, Clay is not made for you.
This concern is being confirmed by the difference I see between my own Home page, and the Home page Clay is promising. Since my contacts don't show up in the press, my home feed is just a long list of reconnection suggestions with people I don't remember.
Contact detail page
Clay's contact detail page is a LinkedIn alternative, but with less data. For the people you have on LinkedIn, Clay will show you the same data as LinkedIn(as seen below), but otherwise, it is just an empty page.
I don't believe personal CRMs should try to compete with LinkedIn, but hey.
Pricing
- Free: Clay has changed their pricing and their main personal account with all main features is now available for free.
Business analysis
16 months after having raised 8 millions, Clay is now offering its service for free. As a team of 15 with high profile employees, they must have burned through half of their money by now.
The move to remove their paid plan sounds a lot like trying to increase the number of active users in order to raise money again soon with some billion dollar pitch like "we will be the next LinkedIn".
Profitability is therefore very far away in the future.
High level analysis & review
Clay is burning through its cash, and has made it's offering free for 99% of people.
Clay is targeting "leaders": Very well connected VIP type of people.
Therefore, to me, Clay seems like a very risky personal CRM to investigate. Unless they raise more money, they will go out of business within two years.
Additionally, if you are not a celebrity startup founder or equivalent, Clay is not built for people like you, sorry.
4. Queue: Simple and friendly iPhone relationship manager
Queue is an iPhone-only personal CRM being developed by an indie hacker from San Francisco.
Queue is extremely simple to use: You choose which contacts you'd like to add to your "Queue", you give each contact a period in which you'd like to reconnect (a week, month, ..) and the app will display your contacts based on that.
Queue now also offers a Google Calendar integration which it will use to check if you've had a meeting with the contacts in your queue and automatically update the next catch-up time.
Business & feature analysis
Queue is not made to manage large, +100 people networks, this makes it nicer to use than larger apps like Dex, despite the manual work required in both.
With Queue, the main challenge you will face is finding out who you should add to your Queue. Queue's developer expects you to know this and be able to search contacts by their name.
Then, Queue forces you to choose an interval until you'll reach back out, this is again not very representative of how human interactions work, but for a small amount of people, it is good enough.
Pricing:
- $8.5/month
Enjoy trying out those apps! Additionally, you might want to take a look at Mogul or Covve if you did not find what you were looking for with those four apps.