I've been running a business for the past three years and have been very frustrated by how fragmented our customer data has been across our different tools:
communication data is stuck in Gmail
app usage data is in Mixpanel
payment information is in Stripe
Wouldn't it be great to have all of this in the same place? That is the promise of a Customer Relationship Management app to me and to my surprise, I've been struggling to find such a solution!
The first issue is that many CRMs integrate with Stripe to simplify the collection of payments through invoices, which is very different from actually being a central platform where all customer data is stored.
The number of CRM apps that offer Stripe integrations to import customer charges and subscriptions into your CRM is very small!
Hubspot - Big but terrible
I have heard of Hubspot for a long time and used it at a previous workplace. My expectations where as follows: A great product for enterprise that will be a pain to use for our small team.
For context, Hubspot is one of the biggest players in the CRM space, offering hundreds of integrations
Hubspot is one of the big CRM companies that offers a Stripe integration, so I expected them to have done a good job but oh how surprised I was to discover that their CRM integration was absolutely terrible. Here are the reviews:
From reading the reviews, it seems like this integration simply imports all the Hubspot contacts into Stripe and imports basic contact data from Stripe customers into Hubspot. This means:
You don't get subscription information into Hubspot!
This basically makes the Hubspot <-> Stripe integration useless as the real information you need about a customer (how much has this person paid, is this person on an active subscription or has this person churned, ..) won't be imported.
Agile CRM - Ugly UI and disappointing
I had never heard of Agile CRM and after visiting their landing page, did not want to hear from them any further. Unfortunately, as I was struggling to find customer relationship manager apps that actually integrated properly with Stripe, I had to fall back to their landing page and sign up.
As expected, a scary interface that looks like it was designed ten years ago. After connecting my data, I was terribly disappointed by how little data had actually been imported: no subscriptions, no charges. Only the stripe customer identifier and the contact's name and email.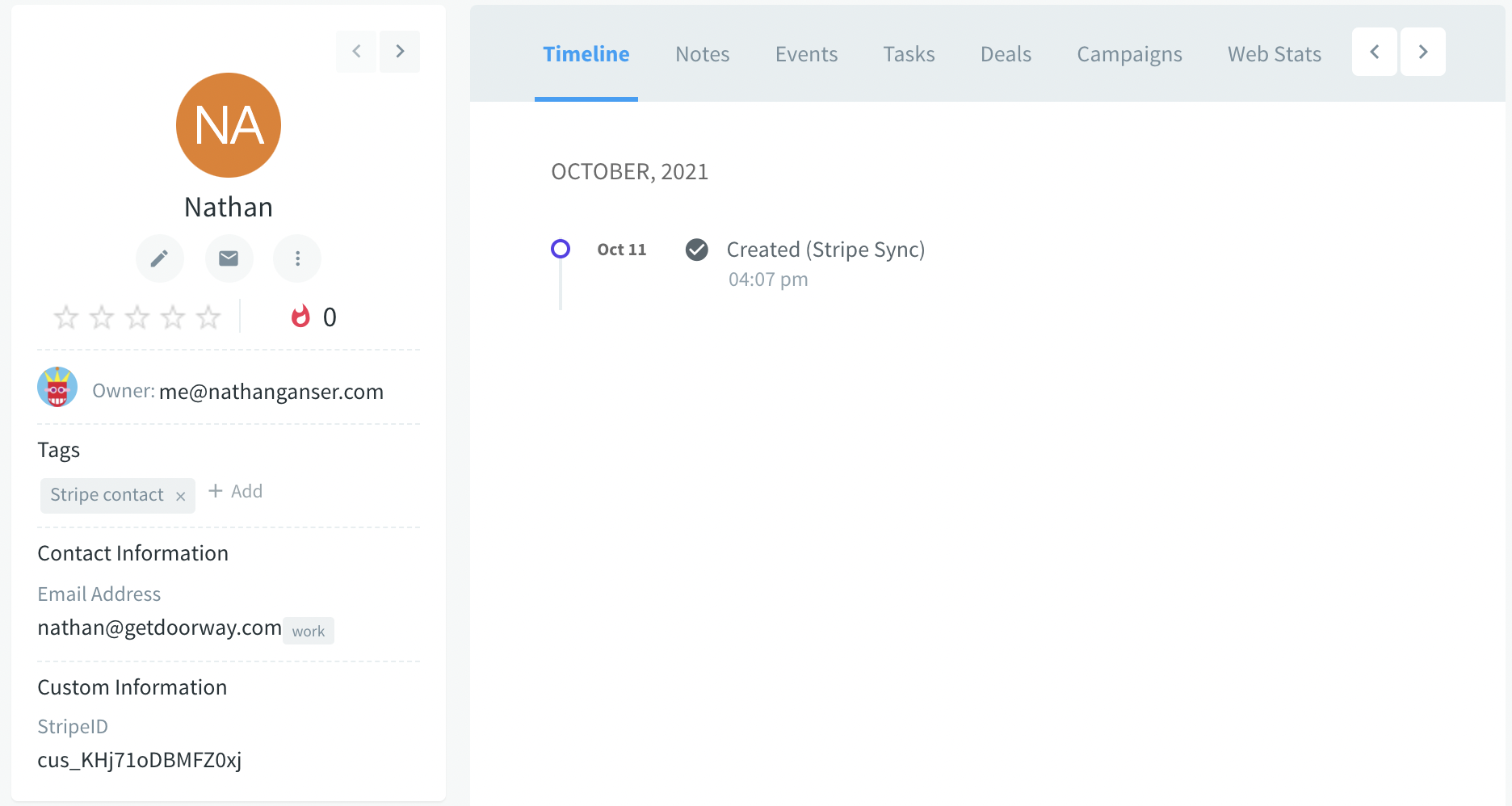 Once more, this really isn't what you'd call a Stripe integration! This top 5 Stripe <-> CRM integration article is not going well!
Nat.app - proper Stripe, Gmail & Segment integration
We initially built a personal CRM, a solution for individuals such as consultants and freelancers. But decided to build a solution for teams as we grew frustrated by how we managed customers as a team.
We have not launched our solution publicly yet but here is a little pitch:
- Proper sync with Stripe (we also automatically generate smart insights like total revenue for per customer)
- Privacy focused Gmail integration (meaning your team members only know you emailed someone but won't know what you wrote to that person)
- Integration with Segment for software businesses (so that you don't need to go from Mixpanel, to Stripe to Gmail).
Request access: beta@nat.app