Launched in 2015, Loom is already a monster company. Having raised over $200 millions and serving over 10 million users. It has been valued at more than a billion dollars!
Over the past years, something very predictable seems to happen with those unicorn companies: they stop being great products for individuals and small teams. Instead, they start to focus on giant enterprise customers with thousands of employees. This is already starting to be visible in their latest product updates (here, here and here).
Because of this, people like yourself might be starting to look for alternatives: simpler products, focused on small teams and individuals. In this post, we'll review some great alternatives, focusing on the following points:
Simplicity: Is the product simple to get started with? Is the Chrome extension simple to use?
Free plan & pricing: Does the product offer a generous free plan? Is the pricing good?
Quality: Does the alternative make it easy to share video messages? Are the messages enjoyable to be watched?
Vocal - Simple yet powerful
Simplicity ✅
Vocal is very simple. They offer both Google and email login to satisfy everyone and starting a recording is as simple as clicking on their extension icon.
They offer the most important important recording features and nothing more! On top of the video recording features, Vocal also lets you send voice messages per email!
Every recording is automatically converted into a link that you can share with anyone.
Free plan & Pricing ✅
Vocal's free plan lets you send as many messages as you want but limits those recordings to one minute. On their Pro plan ($11/month), the limit is removed and longer video & voice messages can be sent.
Quality ✅
Vocal offers the nicest experience for recipients of video messages in my opinion. Upon clicking the link, users are redirected to a nice dark page that is fully filled with the recorded video and a video title. No aggressive branding, nothing else.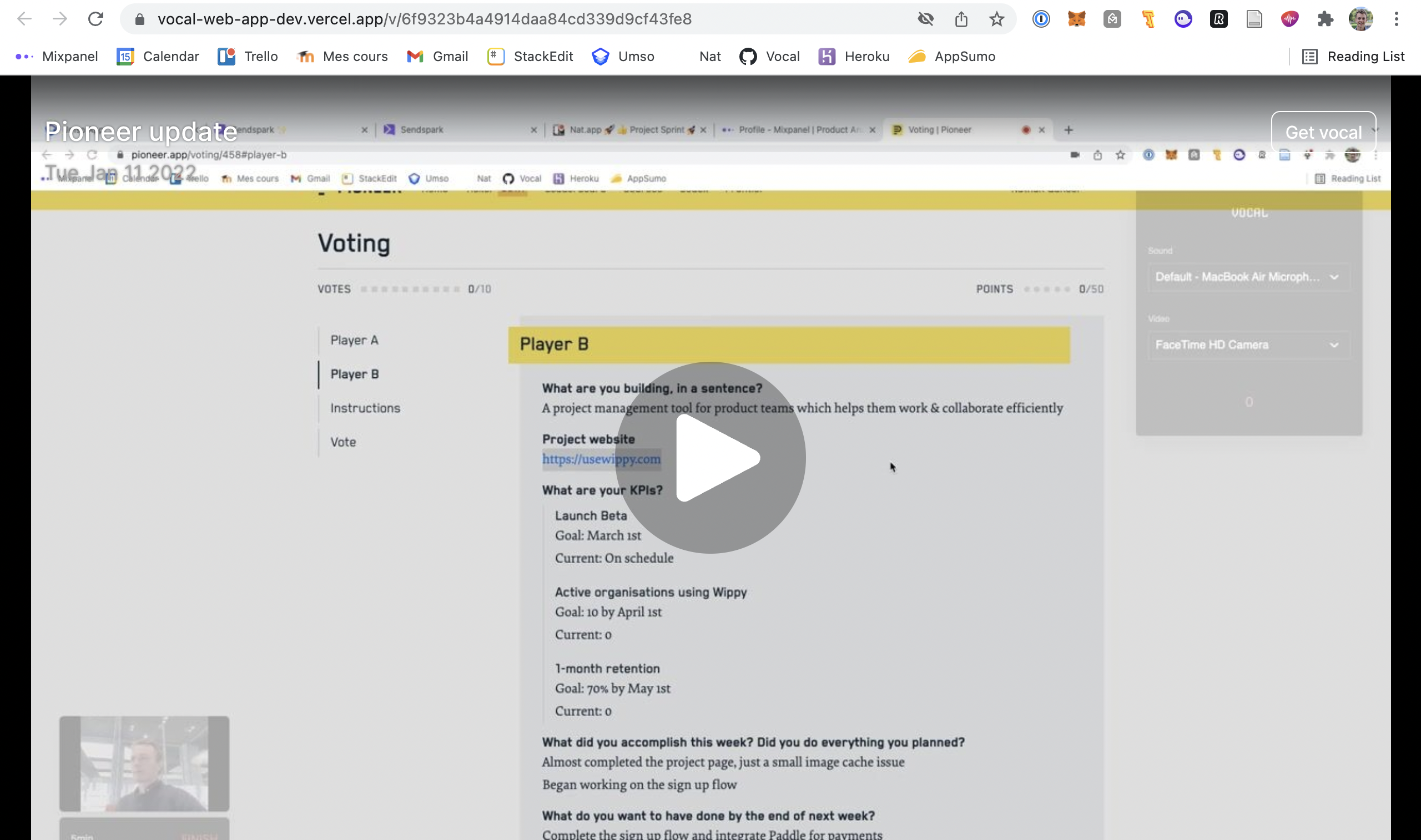 RecordJoy - Absolute simplicity
Simplicity ✅
RecordJoy is a simple as it can get: you visit their website, start a recording and click a button to get your video uploaded and shareable. As they only offer a website, you have to remember to go back to their app when you want to record a message, which maybe isn't the best experience when you just want to record a video.
Still, their app is simple yet powerful, with all the main features you might need: webcam recording, screen recording, ...
Free plan & Pricing ⚠️
RecordJoy unfortunately doesn't offer a free plan. Instead, their Pro plan ($9/month) comes with a 7-day free trial. They also offer an Enterprise plan with custom domain names for your videos (mydomain.com/k3ifbdk for example) at $29/month for four team members, making it the cheapest Enterprise plan in this ranking.
Quality ⚠️
RecordJoy is a bit rough around the edges, the interface is simple and not specially beautiful:
Still, the experience of watching a video recorded with RecordJoy is great: the user gets shown a big good looking page with your video in the middle and no aggressive branding at all.
Sendspark - Use video messages to sell
Sendspark is a small Texas company that raised $300K in late 2019 and has been building a great product ever since. it focuses on video recordings for sales and allows its customers to add calls-to-actions (CTAs) to their recordings.
Simplicity ⚠️
Sendspark is quite complicated as an app. This is due to the fact that they offer so many different features and expect you to spend some time on each video to customise it, add branding and so on.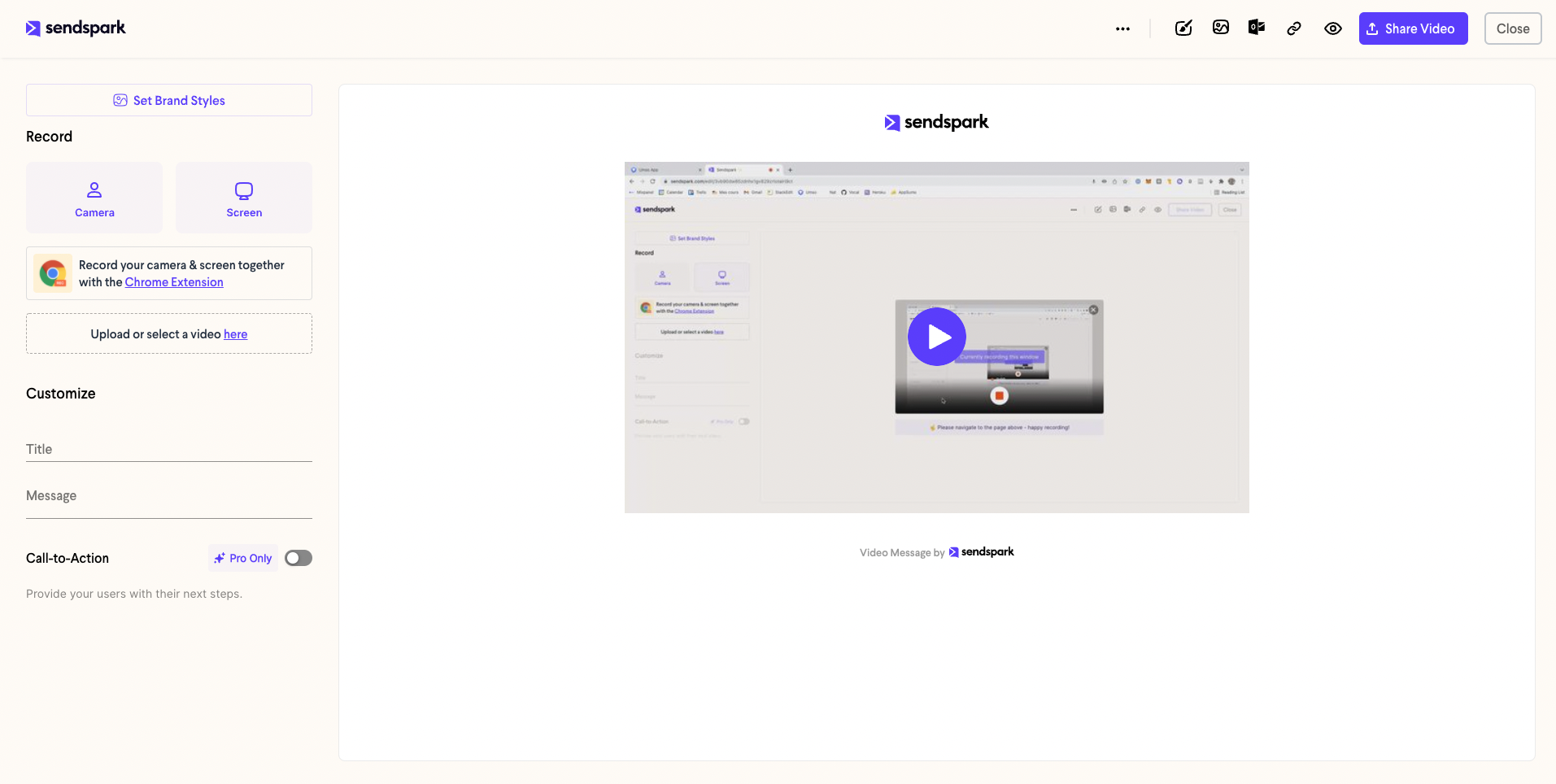 If you want to send out really polished videos to your sales leads, then they'll allow you to do that, but if you're looking for a day-to-day communication solution, then Sendspark might not be the best.
Their solution is also pretty much team based, with many features targeted specifically at teams, so if you're a freelancer, you might not need all of this.
Free plan & Pricing ✅
Sendspark's free plan is very similar to Loom, while slightly more limited as they add their branding on your video. They limit you to 30 videos, which can really be a pain if you're just looking to record one more video, but that's pretty much like Loom.
They offer two paid plans: Pro and Business.
Pro ($15/month/user) removes the branding and the limit on the number of recordings and Business ($19/month/user allows you to send video links with your own domain, like mydomain.com/a9fdhk, which is really cool!
Quality ⚠️
When someone clicks on your link to watch your video, this is the page they'll see:
A big white page, with a small video player in the middle and the sendspark logo everywhere. Not a great experience for the recipient of the recording. On the paid plans, you can replace the Sendspark branding with your own.
Berrycast
Berrycast is a Canadian company that does not seem to have raised any money and has good reviews on multiple platforms. They offer native desktop apps and have some advanced video editing features such as trimming and analytics as to how many times someone watched your video.
Simplicity ⚠️
Berrycast requests an access to your contact book when signing up, that made me quite uneasy: they certainly don't need this to work. Their desktop app also has this weird thing where they always add a green thing on the left side of your screen, all the time.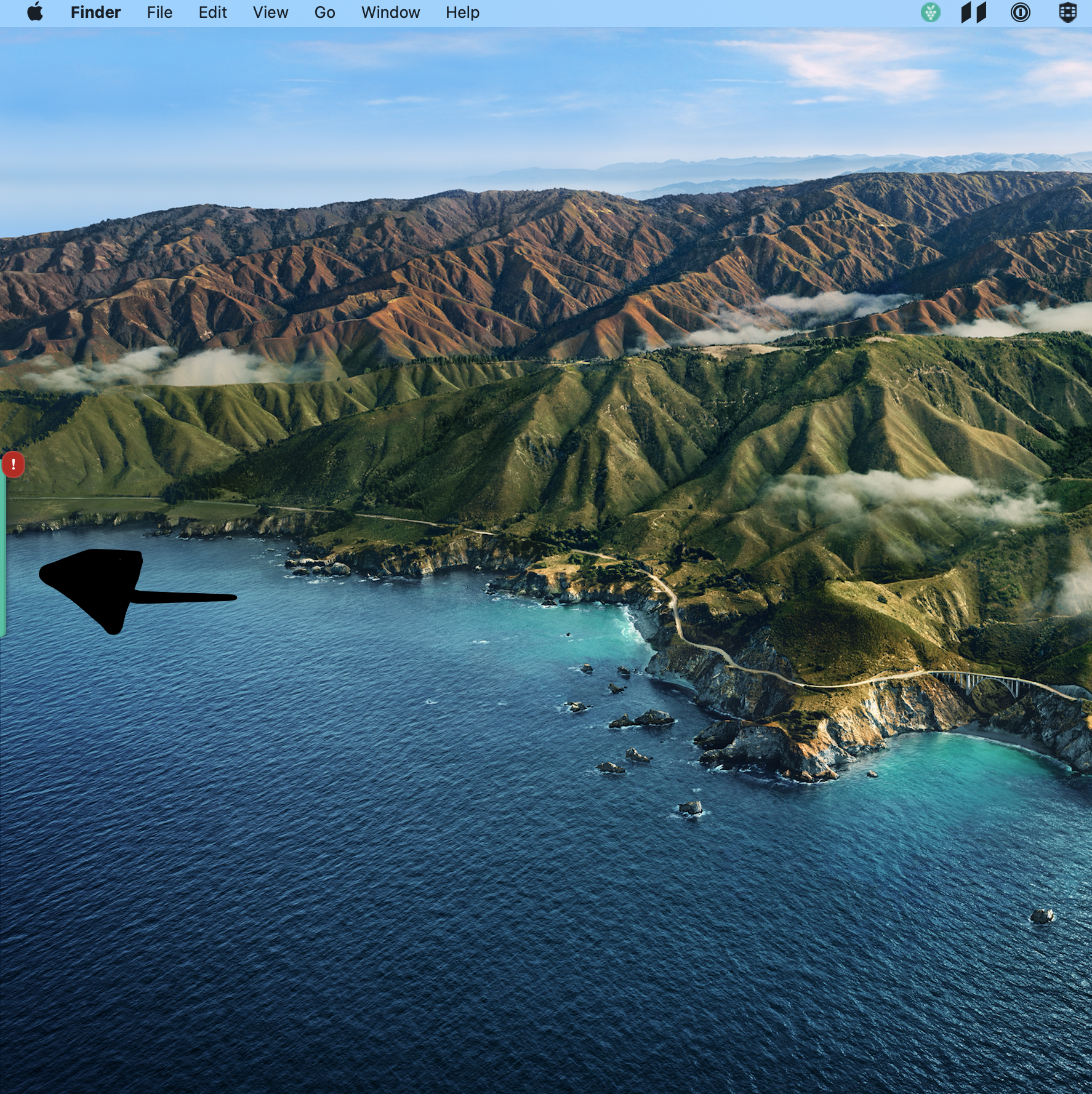 The recording experience is also quite complex with many buttons that don't seem really necessary, especially given that they will be shown to the recipient of the video message as well.
Free plan & Pricing ✅
Berrycast's free plan lets you record 10 videos a month, depending on the number of recordings you plan on doing, that can be really good, and there is no time limit. Most of their Pro features are included in the free plan, but they add a pretty aggressive branding on top of everything if you're on the free plan.
Their Pro plan ($9.99/month/user) always you to record as many messages as you want
Quality ❌
Using Berrycast is quite uncomfortable as they seem to take over your computer, you're suddenly getting surveys that pop up on your computer, asking you to rate your experience with Berrycast and so on.
The recipient who receives your video also has quite a weird experience as he's getting prompted to sign up for Berrycast pretty much everywhere on the page and has to fight to actually watch your recording.
Found another great app to share video recordings over the internet? Let us know!