2021 has been an extremely exciting space for the Personal CRM industry. Multiple companies have moved from new market entrants to established companies and one VC-backed company working on solving the personal relationship manager problem raised multiple millions in 2021.
Let us review the most popular solutions here so that you can pick the right personal CRM for yourself. This year, we've broken the ranking down into three subsections, depending on what devices and apps you already use.
Nat - Best Personal CRM for Google users
If you use Gmail, Google Contacts and Google Calendar on a very regular basis, then Nat is the best solution for you.
Like last year, Nat is still the simplest and most automated relationship management app out there. You start off by connecting your email inboxes, your calendars and your contact books, Nat then crunches your data to come up with relevant contacts to add to your CRM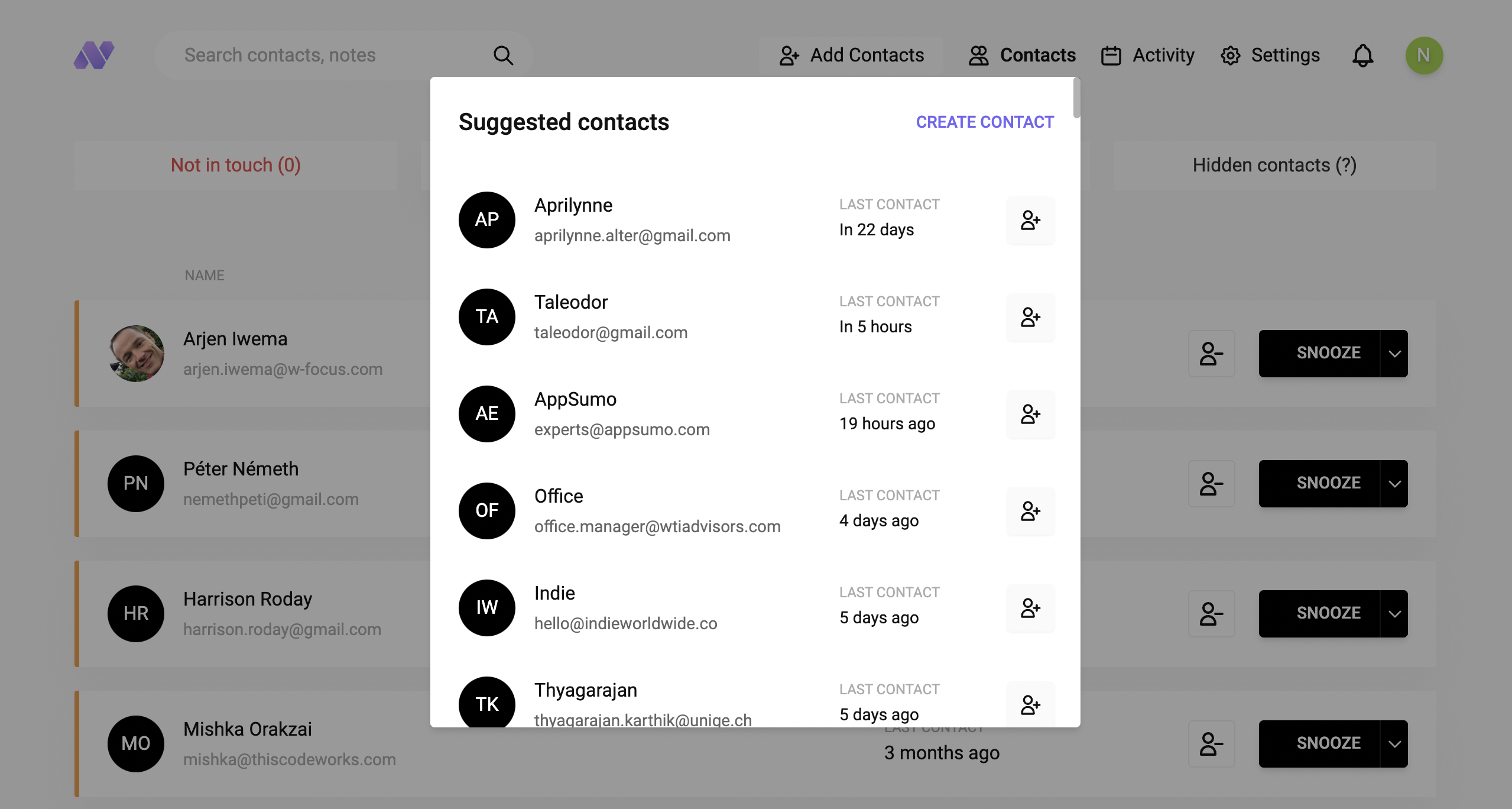 Once contacts are added, they'll be added to three separate buckets automatically:
Not in touch: Contacts you urgently need to reach back out to
Losing touch: Contacts that it would be good to reconnect with
In touch: Contacts that don't require your attention for the time being
From there on, your job is simply to login once a week or so and review contacts you're not in touch with.
Meeting preparation emails & email note taking
Nat has one feature worth mentioning, meeting preparation emails.
Simply, before every meeting, an email is sent to your inbox with all the notes you've previously taken about people in the meeting. You can also add new notes simply in the email (see the image above).
Clay - Best Personal CRM for Apple users
Clay raised an astonishing 8 millions in venture capital during the last months of 2021, which definitely attracted some attention to the Personal CRM space. Clay won our 2021 review, let's see how they're doing this year.
Sexy UI
As last year, Clay still gets some points for their UI and interface. While seen as confusing by some, it's certainly eye-catching.
As an example, look at the image above and try to figure out what the buttons at the top do? Any idea? Hovering over them does not show anything :/
Integrations
Besides the basic integrations that all best-in-class Personal CRM support (email & calendar), Clay also built a Twitter and iMessage integration that we will analyse here:
Twitter integration
Their Twitter integration scans the bios of your twitter contacts to figure out if a bio changes. This is a great idea on paper but as I experienced with Clay, simply makes up yet another news feed to check regularly without much value as most Twitter bio changes aren't super insightful.
iMessage integration
Clay also added a privacy grey-area integration this year, namely their iMessage integration. No-one has ever seen an iMessage integration in the past, simply because it shouldn't exist, Apple does not offer an API to access iMessage. Yet, Clay found a way to access your messages, by requesting full disk access to your computer (the permission to read any file that exists on your computer) to find the file that contains your iMessage data.
I'm again very uncomfortable with some an integration as it potentially compromises my whole computer for a small benefit compared to the risk.
Limitations
Clay is built for Apple only. Meaning that they only support Apple login and only offer an iPhone app. This is a dealbreaker for many android or Google users.
Pricing
Clay offers a 14-day free trial followed by a $20/month subscription.
Dex - Personal CRM for everyone else
Dex has done a tremendous amount of progress over the past year and launched multiple new integrations which make it a top contender for this ranking.
It has also done some grey-area type of stuff, which in my personal opinion, is not right, but I'll let you judge for yourself.
Historically, Dex has always been a low-integration type of personal CRM. Using Dex meant you'd be willing to manually import contacts and keep your data up to date. In 2021, this changed and Dex added two powerful integrations: LinkedIn and Google Calendar.
LinkedIn integration
A LinkedIn integration has been the dream for all Personal CRM developers for years, unfortunately, it is not legally possible, simply because LinkedIn does not give access to their own customer's data in a simple way. VC-backed relationship management apps like Clay have hacked their way around by scraping LinkedIn data from your web browser.
Dex went one step further (and too far in my opinion) by integrating with a product called Fantom to provide their LinkedIn integration. When you click on the Connect LinkedIn button, a page opens that looks exactly like LinkedIn's login page, making you think you're logging into LinkedIn, when you're in fact giving your LinkedIn password to a third party app called Fantom!
This app then uses your email and password to login into your LinkedIn account to download all your data and import it into Dex. I never give my password to any app or any third party but was tricked to do so because I didn't realise this wasn't LinkedIn but a third party. Not a good security and privacy practice, because:
If this third party "Fantom" app gets hacked, my real LinkedIn password will have been lost!
I got tricked into thinking I was logging into LinkedIn, when in fact I was on Fantom's website
But what about the integration itself?
Now that I've finished my rant on the way Dex integrated with LinkedIn, let's review the integration.
As one would expect, my LinkedIn contacts got imported into Dex, that worked as expected. Dex also added a nice little touch, as I was now getting notified every time someone changed their title on LinkedIn.
Google Calendar integration
Dex's Google Calendar integration imports all your calendar events which is a great thing as that can represent a lot of important interactions for people who use their calendar a lot.
User interface
Besides, Dex had always a bit of a clunky aspect to it, with the team trying to squeeze too many features together. This has changed as well, with Dex now being a very sleek and simple to use app.
Pricing
Dex charges $13.5/month or $108/year for their Premium plan and also offers a free plan with limited features.
Some more personal CRMs...
Below are some more personal relationship managers that you might want to try out if the top three presented above don't satisfy your needs.
Queue - Personal CRM for your iPhone
Queue is a bootstrapped personal CRM for IOS built by an indie hacker in the US, you can read more about the founder and app here.
Mogul - End-to-end encrypted personal CRM
Mogul is a bootstrapped personal CRM built by an indie hacker and entrepreneur in the US. You can read more about Mogul here.
Uphabit - The dead personal CRM?
It's unclear what exactly is going on with Uphabit. Their product development seems to have stopped about a year ago and no new features or re-designs have been seen since. Yet, they are still publishing a lot of content on their blog and twitter account.
Monica - The open source personal CRM
Monica has not changed their product in recent years, they are therefore of not much interest if you're looking for a modern product. But in case you haven't heard from them yet, make sure to check them out as they're the oldest CRM for individual users out there.
Folk - From Personal CRM to CRM
Folk started off as a Personal CRM. They kept building multiple years in stealth and just recently opened their private beta. At the same time, they decided to move away from the Personal CRM space and focus on teams.
I still wanted to give them a shoutout as they've build a very good looking product!
Conclusion
I'm not sure what to think about the personal CRM space as a whole and generally quite disappointed by the direction our competitors are taking: sacrificing privacy and security best practices for small incremental wins, as for example:
Clay: Requesting full computer disk access to import iMessages
Dex: Requesting your real password to import LinkedIn contacts
My personal understanding of this space is that it's very small and fragmented and that trying to raise money to build a solution that is great for a big enough amount of people won't work. I'm therefore not very optimistic about the long term prospects of Dex and Clay, the two VC-funded companies in this space.
Even for us at Nat, retention is quite low and just 20% of our long term customers and responsible for 80% of our app's usage. We don't see a path to build a big company and won't therefore go out and beyond to improve our app further, instead focusing on making it as good as possible, within the constraints of our limited ressources.
We have recently launched a new product to send voice and video messages per email - Vocal, check it out :)